Be a Part of Something Amazing
Join a team that is leading the way in producing some of the world's largest, most highly engineered castings. At Elyria Foundry, you will find an innovative, collaborative team fueled by a collective purpose: to provide our customers with the highest-quality, American-made products, every single time.
We offer competitive pay and benefits packages, and our family-owned business is proud to support our team members in the ways they need it most. Our company's culture is designed to foster the growth of individuals, providing you with the tools and training to work safely and build a satisfying career.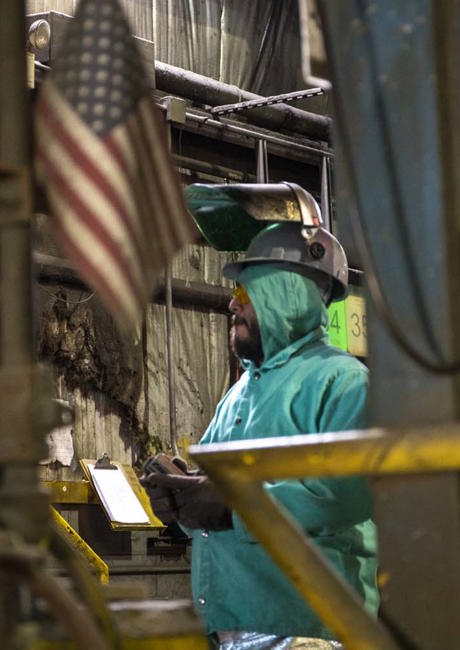 Create the Future You Want
Our employees have the opportunity to make a difference and be heard at all levels of the organization. We value our employees and offer many paths to grow and shape their careers at Elyria Foundry. From entry level and apprenticeship positions to professional technical roles, if you're eager to learn and put in a hard day's work, there's a role for you here.
Management Opportunities
We are committed to developing and advancing our employees when they show interest in expanding their careers. Our Iron University gives employees the opportunity to manage their learning according to defined learning paths based on their current or future job expectations. 
Apprenticeships
Our apprenticeship programs give employees the training and tools they need to thrive at Elyria Foundry. Depending on the program, employees can achieve journeyman status in as little as two years or up to five years. Our apprenticeships have defined curriculum and consist of on-the-job training across various departments in the foundry including engineering, lab and quality control. Classes include basic foundry practices, including basic metallurgy, no-bake sand control, and blueprint reading. 
Skilled Operators
For individuals excited by the opportunity to use their hands to craft and make a product, we offer several skilled operator roles. We provide hands-on training for operator roles in which you can acquire the skills you need to succeed in as little as 30 days. These positions also serve as a launching pad to apprenticeship positions and beyond.
Internships and Student Learning Opportunities
We partner with local universities and technical schools to offer challenging and meaningful educational opportunities for students. Our internships combine hands-on technical training with business skills to help students thrive in their careers. We are proud supporters of the Foundry Education Foundation and the College in Industry conference in Chicago, Illinois.
Participation in Industry and Trade Associations
Our employees are industry leaders who share their expertise in roles with a variety of technical and trade organizations. These organizations are at the forefront of foundry technology research and environmental issues, as well as in developing new markets and applications for our castings.
Job Openings
If you seek a dynamic environment in which you can thrive, check out our list of current openings. Don't see a match? Drop us an email at jobs@elyriafoundry.com and tell us your story to be considered for future opportunities. 
transparency-in-coverage.uhc.com*
*This link leads to the machine readable files that are made available in response to the federal Transparency in Coverage Rule and includes negotiated service rates and out-of-network allowed amounts between health plans and healthcare providers. The machine-readable files are formatted to allow researchers, regulators, and application developers to more easily access and analyze data.